Character Information
Real Name:
Ms Ellen White
Nickname:
Ellen
Nationality:
British
Date of birth:
1933
Age:
41
Hometown:
Liverpool, UK
Occupation:
Guidance counsellor and housemother of Waterfall Downs Academy
Children:
Grace 'Gracie' Ellen White *1963; Tom 'Tommy' Brown *1955
Life partner:
Graham Hart *1927
Physical Description
Weight:
139lbs
Height:
5' 7"
Hairstyle and colour:
Blonde
Eye colour:
Blue
Physical build:
Voluptuous
Portrayed by
Kate Winslet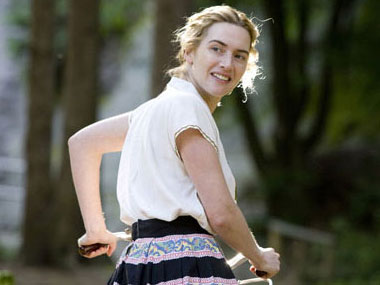 Education
Finished school with 15 in Liverpool, but she never stopped reading and learning about child development. She always wanted to be a teacher.
Languages (spoken, written)
English
Interests:
Cooking, knitting, taking care of people
Personality:
Ellen is very calm and sensitive woman. She is kind and caring and loves to care for others, which sometimes means she puts others before her own needs. She loves her children but she had to accept defeat when her son left.
Strengths:
Ellen had a hard life grew up with a working mother and an absent father. She always dreamed to find a loving husband, but in the end she just found another absent husband. When her daughter was born with down syndrome he was faster gone the a soap bubble pops. For a day she was devastated and then she took her two children and moved to Oxford and turned her live around. She worked hard, and worked herself up as a counsel teacher in primary schools.
Ellen is a very fair person and will always be on both sides with all hear heart. And for nothing in the world would she try to replace Liam's mom.
Weaknesses:
Ellen has a hard time accepting that her son is a lot like his father and that she could not keep him. Her ex-husband was mentally abusing her in a way that he managed to talk herself smaller and when Gracie was born he made her believe that it was her fault. She will feel forever guilty that her ex-husband made her even doubt her love for her daughter.
History/Background:
Ellen grew up with a working mother and an absent father, she was 15 when she met her ex-husband it didn't take long to get married. He was not a bad husband but he was also not the right one for her. The final straw was when he found out that his daughter -which he still believes is not his daughter- is a retard (his word never Ellen's), he packed his bag and left saying he has never seen such a disgusting thing as this creature she called
their
daughter.
After years of struggling and rejection for not having any qualifications one day when her daughter was just not even six yet she read the advertisement that a new school for highly intelligent children was opening in Oxford she called right away and the lovely sounding young headmistress invited her to an interview and even sent out train tickets. She never regretted that she had left everything behind and started a new live in the
Grownup House
of Waterfall Downs Acadamy.
Tommy left when he was 14, he went to live with his father in Liverpool. Ellen is still very hurt that her son didn't want to live with her and Gracie. After her husband left her alone with a newborn disabled child and an eight year old boy she thought she would never find love again but she found love in again and finally found the man that loved her and her children in ways she deserved. But Graham Hart won her heart and he was the man she deserved. She understood that he himself was in an difficult position, he had found the girl he loved with all his heart so many years ago but he lost her and never found her again. And now Catherine had passed away and Graham felt guilty that he loved again while his Catherine could not see their son become the wonderful man she knew he could always be. Ellen was never happier since she and Gracie moved into Graham's little cottage and neither is Graham.