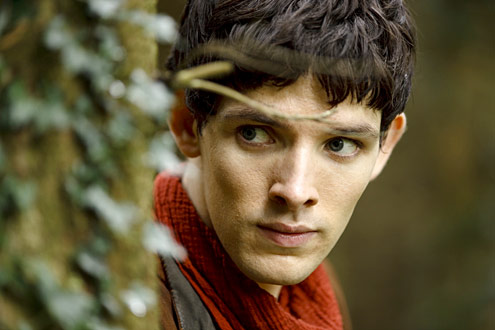 Background:
Merlin was raised in Ealdor by his mother until the age of 18, when he was sent to Camelot to apprentice Gaius, the court physician. Gaius, who knew about his magic, gave him a spell book and warned him to keep his abilities secret lest he be executed by Uther. Shortly after arriving to Camelot, he saved Arthur from an assassination attempt. Uther made him Arthur's manservant as a reward for saving Arthur's life, which neither of them was initially very happy with. Merlin also discovered shortly after arriving in Camelot that Uther was keeping a dragon- the Great Dragon- chained in a cave beneath the castle. The dragon told Merlin that he'd been foretold by multiple prophecies, and that he had to help Arthur become kind of Camelot. As a result of being Arthur's manservant, Merlin also eventually met all of the Knights of the Round Table, as well as Gwen and Morgana. He and Arthur eventually grew to be friends. Despite several close calls, he's managed to keep his magic secret from all but a few.
Personality:
No longer the naïve boy who came to Camelot, Merlin has managed to hold on to his sense of humor while gaining a bit of wisdom into the bargain. Though Arthur is now king, Merlin shows no inclination to treat him with any more respect than he ever has, continuing to alternate between bickering with him and obeying any idiotic command Arthur gives him. He still polishes boots and armor, but it's also not unusual to hear him calling the king names or to hear the two of them bickering like any pair of brothers. He's grown more comfortable around the knights, although many of them still enjoy having fun at his expense, especially if egged on by Arthur (or Gwaine, on some occasions). Lately, he has started more and more to take the role of the voice of wisdom when Arthur is in need of advice, a role that is definitely made easier by several years' experience dealing with Camelot and royalty in general.
He is HORRIBLE at lying, but talented at telling lies so outrageous that no one bothers questioning them- because who could really just INVENT something that ridiculous? When caught of guard and required to tell some falsehood (which happens often enough) he's likely to come up with something plausible little by little, and it's a bit of a miracle that no one has figured out yet how to tell when he's lying. Keeping his magic secret is still a big priority, although he's become much more adept at and willing to use it, even against his (or the kingdom's) enemies. And he is no longer as likely to automatically believe good of everyone in the world.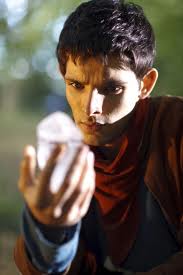 Skills:
First and foremost, he is becoming a powerful sorcerer in his own right, although he still needs to learn to think before he does things. When he first came to Camelot he was a talentless hack at any sort of fighting, and was just as likely to injure himself as an enemy if handed a sword. But he's improved, slightly, and can at least be counted on to defend himself until someone can jump in and do the job properly- and if he has to and no one is looking, he can always use sorcery as a form of defense. Under Gaius' tutelage, he's also become a fairly competent healer, enough so that he can be trusted to carry out small healing errands without Gaius' supervision. And he is EXCELLENT at mucking out horse stalls, and either lucky or talented at sneaking around!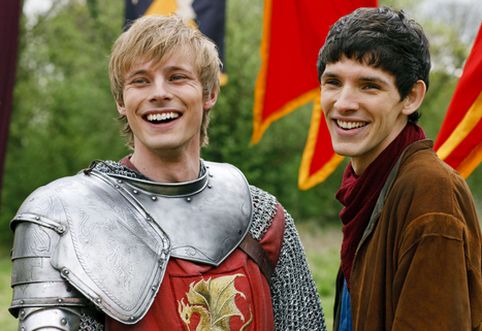 Relationships:
Arthur: He's Arthur's manservant, but as the Dragon is fond of telling him, they're both integral parts of the same prophecy that Arthur doesn't know about. Sometimes their relationship gets complicated, because they're also good friends, and as such the line between King and manservant gets a little blurry and confused. He is fiercely loyal to Arthur.
Gwen: Merlin and Gwen often get stuck on the same "we know that guy is an asshole but how do we convince the rest of the world" side, and they were friends before Arthur ever took a shine to Gwen. They've always interacted as equals, since Gwen was also a servant before she became queen, and becoming queen doesn't appear to have affected their friendship.
Gwaine: Merlin was one of Gwaine's first friends when Gwaine first came to Camelot, and the two remain close- even if Gwaine can be occasionally obnoxious and even though he is not above pulling juvenile pranks on Merlin. He actually knows some of Gwaine's past, which is not something many can claim, and he's fully aware that Gwaine trusts him and would not willingly do anything to break that trust.
Leon: Leon and Merlin are somewhat kindred spirits. These days, Leon pretty much treats Merlin as almost-equal, one of the few with whom he can commiserate about serving the nobility. While Leon has been known to join in on pranks pulled at Merlin's expense, he has never come up with one- usually that's Gwaine or Percy's doing.
Kilhwch: Both a danger and an annoyance, Merlin doesn't care for him one bit. Within months of arriving, Kilhwch had figured Merlin for a sorcerer, Morgana's primary adversary, and a Dragonlord. This gives him a definite advantage over Merlin, and so Merlin is stuck between a rock and a hard place- he knows Kilhwch is bad news, but like so many other times, he can't just tell Arthur. Whether Arthur believed him or not, it would be easy for Kilhwch to expose Merlin as a warlock, and Merlin and Gaius both believe this would still be disastrous. As before, one of Merlin's only allies in this knowledge is Gwen, who sees right through Kilhwch's little charade, though this time Gwaine is in the same boat as the two of them.


Last edited by Caitydid on 30th December 2011, 22:17; edited 1 time in total